I'm linking this up at Homemaker on a Dime for the Roomspiration Bathrooms Party. Grab your best posts about your bathrooms (can be new or old) and go link up!
I've only really talked about our powder room way back when I revealed it so I thought I would give you a closer look at some of the details.
I mentioned before that this was the first room in our house to be completed. We started with it because, well, it needed it and it was the smallest room to renovate.
This is where we started. Took this during the home inspection. Ignore the hair :)
I'm still loving our $35 Kohler Devonshire sink found via Craigslist.
The mirror is my favorite part of the room. People always comment on the scalloped edge. I think it's understated but still so pretty.
The toilet paper box was actually a bit of a splurge, being from Pottery Barn and all, and baskets are typically cheaper elsewhere. I searched high and low for an espresso basket or box with a lid that would fit 2-3 rolls and still fit on top of the tank with no luck. I'm glad we got this one because I really like the way it looks, and it holds two extra rolls perfectly.
I'm all about the free artwork (remember my free prints from our living room?). These ones in our bathroom are from Vintage Printable.
I'm toying with the idea of swapping these out for something more colorful. These add a bit of a beachy feel which I do like, so we'll see.
We put plantation shutters around most of the main floor, and I especially love having one in the powder room. We keep the bottom of it closed for privacy and the top open for light, so that way we can still have the benefit of natural light in the bathroom without always having to open and close a shade or curtain. The top is high enough that we don't close it, even at night. The most people can see from outside is the top of someone's head.
Hope you enjoyed taking a closer look at our half bath details!
While you're here, check out my paint galleries, room galleries, and furniture gallery!
Here's the full schedule of Roomspiration Parties. Can't wait to see you all here on Sept. 23rd when I will be hosting the dining rooms party.
Make sure to visit the other hosts!
Abode Love – entryways Sept. 12th
View Along the Way – living rooms Sept. 14th
Homemaker on a Dime – bathrooms Sept.16th
DIY by Design – guest bedrooms Sept. 19th
Family Brings Joy – craft rooms Sept. 21st
Involving Color – dining rooms Sept. 23rd
All Things Bright & Beautiful – kids bedrooms Sept. 26th
a la mode – nurseries Sept. 28th
Just a Touch of Gray – master bedrooms Sept. 30th
The Blooming Hydrangea – closets and nooks Oct. 3rd
The Mustard Ceiling – laundry and mudrooms Oct. 5th
The DIY Showoff – kitchens Oct. 7th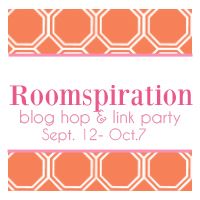 <div align="center"><a href="http://involvingcolor.com" title="Roomspiration"><img src="http://i1218.photobucket.com/albums/dd408/lizzygal18/orangebackground.jpg" alt="Roomspiration"
style="border:none;" /></a></div>